Last modified on July 11th, 2023 at 9:22 am
Chris Johnston, president of Sierra-Olympia Technologies, recently took the time to talk about a new mid wave infrared product called the HexaBlu®. It's a sensor manufactured by DRS, the best cooler manufacturer in the world. Join us as we dive into a brief overview of the HexaBlu™ and what makes it so special.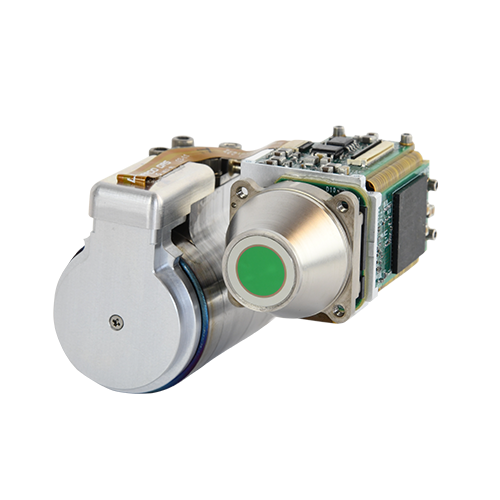 The Sensor
The sensor is a 1280 x 960 format array and it has six micron pixels. Now this is in the class of small pixel mid waves, a new class of mid wave sensors. Mid wave sensors have gone from 15 microns down to ten microns and now down to six microns in the HexaBlu®. The F number is F 2.6, and the sensor is, of course, custom to a DRS design.
Quantum Efficiency
What makes it so special is its very high quantum efficiency. It has the small pixels and the small pixels deliver very high sensor modulation transfer function (sensor MTF). That's attributable to its high density, vertically integrated PHOTODIODE. It's basically a via that creates the interconnect between the sensor and the readout circuit. That's different from a typical mid wave sensor, which has a indium bump and two layers of sensor and readout circuit.
Long Cooler Life
One of the biggest problems in mid wave cameras is cooler life. The expense of a mid wave system is that you expect the cooler to wear out. When this happens you have to take the camera down from its installment, and ship it back through the supply chain to get the cooler repaired or replaced. It can leave you without a camera for six months. This cooler is by far the longest life cooler on the market. It's a dual opposable piston linear cooler with flexure bearings. The advantages of the flexure bearing or lower costs, easier repairs, and less stress on this moving part which extends the fatigue life of the cooler
The Electronics
The electronics are also special. On board is a very efficient, low power, high speed kit that provides just the right functions for integration. It delivers corrected, non-uniformity corrected and bad pixel replacement. 14-bit digital data on LVDS signals with a UART command interfaces for communication. It has two power supplies, 5-volts for electronics and 14-volts for the sensor. The multiple functions allow the user to optimize the sensor.
All thermal Articles