Last modified on June 19th, 2023 at 1:24 pm
Hood River, Oregon: After 25 years of developing, designing and marketing thermal imaging technology, Sierra-Olympia Technologies Inc. is taking an optimistic leap forward as it expands into a newly completed production facility. The expansion enables Sierra-Olympia to maintain its growth trajectory while continuing to innovate as a leader in compact and cutting-edge thermal imaging systems.
The new space features a state-of-the-art clean room designed to suit Sierra-Olympia's unique and evolving needs and will allow the company to meet increased technological and production demand from a growing customer base. "Even for a small company, we are helping drive technology in the industry." Says Stan Voynick, Sierra-Olympia's Chief Engineer. "In addition to serving our preexisting customer base, we have expanded into the broader infrared industry and the quantities of what we are producing have increased greatly. There are products we are now selling hundreds of, where orders of five or ten used to be a big deal. We have grown to the point where we need more space in general, but also we need to upgrade our production facility." The new facility features a custom "Class 10,000" clean room, including two flow benches with additional "Class 1,000" filtering capabilities to remove dust particles from the air.
 "In addition to the products we are going to be building moving forward, the clean room will also strengthen our research operations," Voynick said. "Access to a cleaner working environment will facilitate the company's optical scientists and engineers to continue experimentation in optical engineering and infrared, increasing both their competence with existing technologies and knowledge about potential future advancements in the field." The clean room and flow benches will allow the company to not only produce at a larger scale, but also work more effectively with the most advanced technology available. Optical sensor technology has miniaturized as it has evolved, causing the distance between a sensor and its enclosing window to shrink. As a result, particulates in the production environment have been upscaled and therefore have a greater potential for negative effect. "A little piece of dust in the wrong place causes the light rays coming through our optics to bend and compromises the performance of our product," Voynick said. "As the technology advances, everything gets closer together, and dirt and particulates cause bigger problems. This means that as we work with more advanced technology, we need to be more and more careful with our production environment." In recent years, Sierra-Olympia has expanded to a greater diversity of customers. The new production space represents a commitment to serving an evolving customer base. "It's like having a bigger toolbox with new tools in it," Voynick said.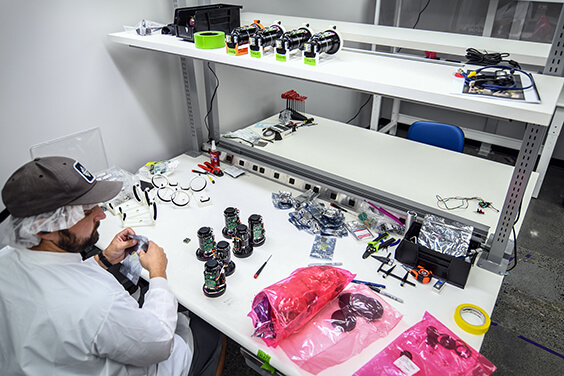 All thermal Articles